After South Korea's largest shipping companies collapsed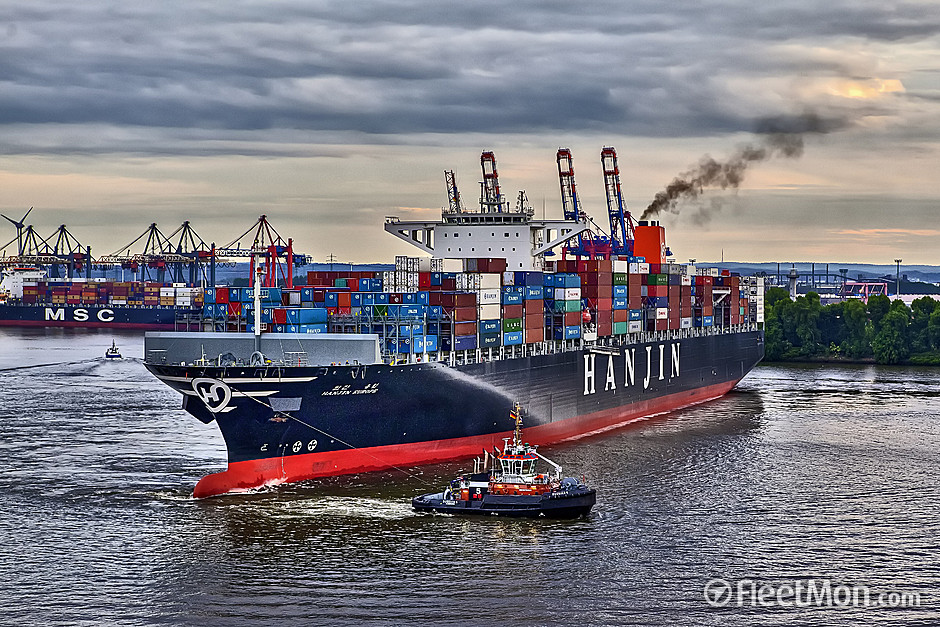 Date:

Sep 01, 2016

Comments:

no comments

Categories: News
As the world's 7th largest, South Korea's No. 1 liner shipping companies, Hanjin Shipping suddenly announced for statutory management, lead to market volatility.
Within a week, drastic changes
August 31, South Korea's largest shipping company Hanjin Shipping Board meeting, decided to the Seoul Central District Court for statutory management (refers to the brink of closure of enterprises, management of third party designated by the court).
August 30, Hanjin largest creditor Korea Development Bank (KDB) held a meeting after the creditors group and announced outside, creditor banks rejected Hanjin's self-help program, decided to stop since September 4 this company financial assistance.
August 29, the market came mainly ship Hanjin shipping Lessors Sai Sipan tough attitude change, agreed to lower the rent $ 715 million ship.
August 25, Hanjin Shipping to creditors offered to Hanjin Group invested 50 billion won (about 450 million US dollars) to fund the core content of the independent reconstruction plan.
Industry downturn, debt
The past two years since the liner shipping market in the doldrums, business conditions Hanjin is equally bleak. Data show that as of the end of last year, Hanjin more than 6.6 trillion won of debt, debt to equity ratio of nearly 850%.
In the first quarter of this year, Hanjin net loss of 261.1 billion won, continued loss of 212 billion won in the second quarter, so that the accumulated losses in the first half reached 473.1 billion won.
According to Alphaliner data, as of August 1 this year, Hanjin Shipping has a fleet size of 100, 616 800 TEU, occupy 3.0% of global market share, ranking the world's No. 7, South Korea 1. Among them, the scale of its own capacity to 37, 274 100 TEU, leasing capacity scale of 63, 342 700 TEU. The size of another South Korean shipping company Hyundai Merchant Marine has a fleet of 60, 435 500 TEU, occupy 2.1% of the global market share, ranking the world's first 14, the second Korea.
Surprisingly, the market chaos
Despite operational difficulties, however Hanjin suddenly declared a statutory manager is surprised the market, even Hanjin insiders also shouted accident.
However, for the purposes of the relevant parties and Hanjin Shipping, even surprise also in need of emergency response. Trade rumors, August 30 evening Shanghai has not fully accepted Hanjin ship anchored, harbor or accept Hanjin containers coming into port. In Rotterdam, Hong Kong, Hong Kong and Singapore, Hanjin Tianjin Port has detained a ship.
Currently, Hanjin Shipping has notified all ports do not accept the booking, the booking will be canceled already.
And currently operates Hanjin belongs CKYHE Union also been some impact. Union members on the one hand to suspend the acceptance Hanjin ship bookings, perform these deployment; on the other hand, the Union members held an emergency conference call to consider before Hanjin did not declare bankruptcy, if there is no reason for any action that could increase losses, the first resolution observation of waiting.
The future direction of blurred broken moon
Hanjin sudden statutory management process, making the whole container shipping market shaken. In astounded, it may be from a rational point of view Discussion future.
About the fate of Hanjin
Hanjin Shipping insiders "Shipping Exchange Bulletin," said Hanjin Shipping has placed in front of three paths: by the Court to continue normal operations, the operator can not be liquidated, the operator can not sell assets.
Despite entering the statutory management program is not meant to Hanjin Shipping will be liquidated, but in view of the ship Hanjin currently facing suspended, stop destabilizing factors such as booking their brand of great harm, the possibility of its future "revived" the small. And if the bankruptcy liquidation and the sale of assets, is bound to face a protracted meeting of creditors, credit and debt disputes and litigation, for Hanjin Shipping is the same brand irreparable harm.
It can be said that if the current Hanjin suspended once sustained, which stand little chance.
About their owners and other service providers
Hanjin same fate which involves a large number of service providers. Various service providers industry chain shipowners, ports, and other towing companies will face embarrassed rent and other income uncollectible. And if entered bankruptcy liquidation, it will be a long wait, litigation. For the owner, it is now in transit will be at risk of container or detained.
According to South Korean media reports, South Korean Ministry of Maritime Affairs and Fisheries and other relevant government departments have held an emergency meeting to discuss the government level response. South Korean Ministry of Maritime Affairs and Fisheries believes that after Hanjin to enter the statutory management program, the company hundreds of thousands of cargo containers loaded by the government-led mediation. Korea Financial Committee and other financial industry has held an emergency meeting, the committee will actively study and take over the ship Hanjin all core human solution.
About Alliance Partner
Currently, Hanjin CKYHE Union transport belongs to share in the Asia-Europe market share of 26.05%, including Hanjin investment capacity market share of 5.68%; in the North American airline market share of 36.59%, of which Hanjin shipping capacity into market share was 7.62%. As can be seen, these two routes is the main trunk routes Hanjin. Once Hanjin capacity full withdrawal route CKYHE arrangement is bound to be a lot of ships' stores.
For to be fully operational in the second quarter next year THE Alliance, the same is a big blow. Hanjin less capacity into its market share, route layout, etc. also face changes.
Liner on market trends
Hanjin to enter the statutory management program, which will result in the ship suspended liner shipping market into a temporary capacity shortages, will greatly ease the current supply and demand imbalances, market freight rates will rise quickly turn better. But in the long run, Hanjin will have the capacity to re-enter the market in some way, if the trade situation is not improved, the market supply and demand situation of the liner will not be radically changed.