Urban cold chain logistics development opportunities and challenges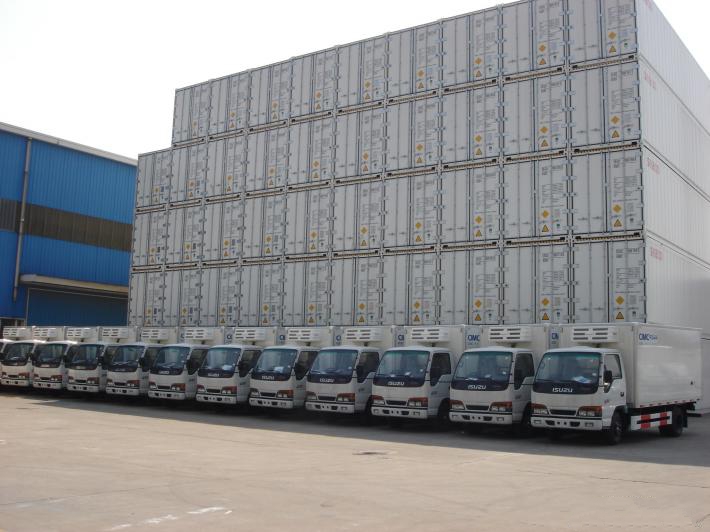 Date:

Feb 15, 2016

Comments:

no comments

Categories: News
With the implementation of China's "The Belt and Road national strategy, Shanghai, Guangdong, Tianjin, Fujian FTA force, signed in Australia, South Korea and other trade agreements, making cross-border cold chain operations have become increasingly frequent, the rise of mobile Internet, and spawned a rise of fresh electricity supplier, Leng Lianzhai, these will undoubtedly be new the theme of new opportunities, facing the development of cold chain logistics.
On 18 January 2016, from hornet Cold Chain Logistics Co., Ltd. Jiang Luo Bing for the current cold chain logistics market situation, with China truck development and operation of the forum issued their own voice.
Opportunities and challenges
Relevant data show that the current rate of refrigerated transportation of perishable food in developed countries has been more than 60%, of which the United States, Japan, Western Europe and other countries and regions more than 80%, while domestic perishable food refrigerated transport rate of only about 20%. China's fruits and vegetables in picking, transportation, storage and transportation and other logistics link loss rate of 25%. By 2015, fruits and vegetables, meat, aquatic products cold chain circulation rate were increased to more than 20%, 30% and 36%, refrigerated transport rate were increased to 30%, 50%, 65% and circulation products damaged by corrosion rate were reduced to 15%, 8%, 10% the following. All kinds of data and policy shows that the domestic cold chain transport is an important opportunity, but also faces a huge challenge.
Jiang Luobing said that with the progress of our society, the continuous improvement of people's living standard, cold chain market demand is increasing year by year, the city of cold chain distribution facing market demand growth situation, is expected in 2016 will enter a period of rapid development. Cold chain transport and distribution model also presents a variety of development trend, cold chain distribution requirements are significantly different. This is a opportunity to the development of cold chain transportation in China, but due to the lack of China's cold chain transportation infrastructure equipment, distribution system is not perfect, cold chain transport traffic policy and professional and technical personnel lack of constraining the development of cold chain logistics.
According to statistics, the country's entire cold chain insulation car has about 70 thousand, far below the United States 200 thousand, cold chain insulation vehicles accounted for only about 0.3% of the entire freight vehicles. The development of the national cold storage in quantity and quality is relatively backward. The number of cold storage in the United States is 5 times as much as that in China. Cold storage structure is not reasonable in cold chain transportation development unbalance, so far, the freezer, refrigerator less; base operation, less processing library; urban cold storage, less rural refrigerator; Eastern cold storage, less western cold storage; civil construction type cold storage, equipment type cold storage.
In the cold chain distribution, at present in our existing distribution mode mainly includes, supplier direct distribution, enterprise from the joint distribution of the distribution and urban, urban traffic problems is still very serious, lack of a set of scientific and reasonable traffic approval policy. For the distribution system construction has a long way to go.
Cold chain logistics have a brilliant future
Jiang Luobing stressed that the cold chain transport is a systematic project, and now the cold chain transport, mainly including the production and processing, cold chain, sales links these three parts, and the cold chain is the most important part of. Cold chain is divided into storage and transport, transport links to food transport, distribution and other major processes, and storage, including freezing, cold storage, as well as the fruits and vegetables of the air conditioning, but also cold chain equipment, etc.. In addition to pipeline transportation, highway, railway, air and sea are related to the cold chain transport. Although there are many problems in the development of cold chain transportation, China has realized the importance of the development of cold chain transportation. The country has been advocating the construction of cold chain transportation and distribution system.
In order to improve the cold chain coverage and speed up the development of national circulation of modern logistics, 2015 in China have built a a group of efficient operation, efficient scale, modern cross regional cold chain logistics facilities are reflected in the continuous improvement of environmental policy. The pace of infrastructure construction, such as vehicles, warehouses, urban distribution systems, etc., has been accelerating. The completion of these infrastructure needs seamless connection, but also need to strengthen the development of monitoring and traceability system. How to concentrate on the deployment of vehicles, will be scattered in the infrastructure, consisting of cold chain. Jiang Luobing believes that the use of powerful information system development of the cold chain distribution system is a good choice, including GPS, GRS of the entire operation are the joint distribution of the urban development, to build a powerful way to the city of a common distribution system. Through the design of the overall distribution program, so as to save the whole social resources, improve the distribution efficiency.
For cold chain investment, long-term stable and continuous high cost inputs, is the basic guarantee of food safety. But on the current point of view, urban distribution and cold chain distribution of professionals are relatively scarce. China needs to solve the most important problem or talent, ideas, talent construction is related to the long-term development of the cold chain transport, personnel input is essential. Professional cold chain operations can not be separated from specialized vehicles, urban logistics transport characteristics are many batches of small quantities, and for the cold chain transport this subdivision has a unique area of transport requirements. Talking about the experience of the car, Jiang Luobin mentioned the engine, the power performance is the most fancy cold chain transport point, because the refrigerated truck equipped with refrigeration units, the engine power output requirements are higher. So, cold chain transport engine research and development is also essential.
From the national level to the industry level, and then to the enterprise itself, and finally extends to the cold chain transport of each car, cold chain transport industry development needs of each industry's main body of a series of effective measures to jointly force. Only in this way, China's cold chain transport in order to seize the opportunity to win the challenge.