"International shipping cooperation mechanism" was officially launched in Shanghai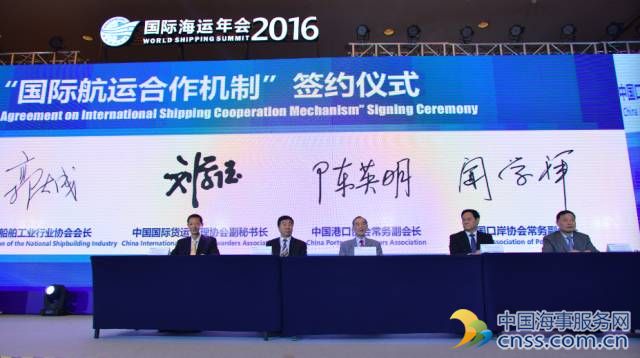 Date:

Nov 07, 2016

Comments:

no comments

Categories: News
On the morning of Nov. 4, China Shipowners' Association, China Shipbuilding Industry Association, China International Freight Forwarders Association, China Port Association and China Port Association held the signing ceremony of "International Shipping Cooperation Mechanism" at the International Chamber of Shipping Congress 2016. Association executive vice president Zhang Shouguo as a representative, issued a "cooperative mechanism" proposal.
Zhang pointed out in his speech that since 2008, shipping continues to slump, the shipping industry restructuring is imperative, in the face of severe industry situation, the five industry organizations use the opportunity to seaborne annual meeting, signed the framework agreement for international shipping cooperation mechanism .
In his speech, President Zhang pledged on behalf of five industry associations that we will adhere to the provisions of the Framework Agreement and focus on the principles of long-term, equality and mutual benefit, complementarity and mutual development, focus on the healthy operation of the future market, and promote win-win cooperation. Partnership, denial of unfair competition. Committed to fair and equitable, standardized and transparent market environment. And the order of the depth of optimization for the international shipping industry to play a healthy and orderly development of the mainstream industry leading role. The future will be through a variety of channels for cooperation. Reshape the industry rules, encourage value innovation, and gradually establish and improve the hierarchical system of cooperation mechanisms. Through dialogue, meetings, special work and other forms of industry from time to time in recognition of industry announcements, such as illegal means of reporting. And strive to find the point of interest, to achieve the depth of integration of mutual benefit. At the same time in the principle of cooperation and opening up, international shipping cooperation mechanism, welcomed the cooperation of more stakeholders to participate.
Only the coexistence of courage and wisdom, pioneering and cooperation simultaneously, can only break the winter trapped in the industry.